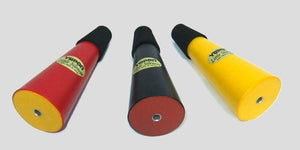 Yupon Little Silencer Trumpet Practice Mute
The Yupon Little Silencer Trumpet Practice Mute is the smallest, lightest practice mute in the world! This tiny mute fits inside the bell in your case and weights less than 1 ounce (26 grams). 
Practice in your apartment, hotel room, or in the next room over from a sleeping baby without disturbing them!
The materials used make it sturdy, yet lightweight, making it the right choice for students, amateur players, and professionals alike.
About Yupon Mutes
Founded in 1966 in Yokohama, Japan, Yupon Mutes is known for high quality, hand-made products. They use superior materials and incorporate designs that meet the needs of modern brass players.