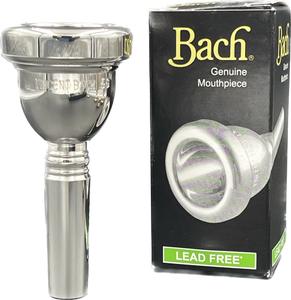 Vincent Bach 1-1/2G Bass Trombone Mouthpiece Large Shank (Bach 341-1HG)
Bach 1.5G Bass Trombone Mouthpiece
Delve into the deep, resonant world of bass trombone soundscapes with the Bach 1.5G Bass Trombone Mouthpiece. Revered as the standard mouthpiece that accompanies Bach bass trombones, this piece promises a stellar experience for the dedicated musician. Designed for those who seek a profound depth in their sound, the 1.5G is tailored to resonate with power, clarity, and elegance.
Key Features:
Optimized for Bass Trombones: The very design and construction of the 1.5G resonate with the innate character of bass trombones, ensuring a cohesive and harmonious play experience.
Deep and Powerful: Dive into the rich depths of sound with this mouthpiece. With its deep cup and wide diameter, the 1.5G is built to produce resonant tones, especially in the lower register.
Carrying Power: The Bach 1.5G doesn't just play; it commands attention. Whether in a concert hall or an intimate setting, its sound reverberates with authority and clarity.
Comfort Meets Performance: The medium-wide, well-rounded rim shape ensures a comfortable grip while not compromising on the mouthpiece's capability to produce rich and nuanced sounds.
Consistent and Reliable: As the standard accompaniment to Bach bass trombones, this mouthpiece promises a performance that's both consistent and reliable, making it a trusted choice for professionals worldwide.
Specifications:
Rim Diameter: 27.00mm
Cup Depth: Deep
Throat Size: 0.276"
Backbore: 429
Dedicated to the discerning bass trombonist, the Bach 1.5G Bass Trombone Mouthpiece offers an unparalleled experience. Whether you're performing a powerful symphony or delivering subtle nuances in a jazz ensemble, the 1.5G ensures every note is conveyed with passion, precision, and presence. Join the ranks of the professionals and make your sound truly unforgettable with the Bach 1.5G.