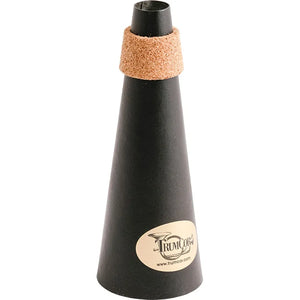 TrumCor Trumpet Super Stealth Practice Mute
TrumCor Mutes - Trumpet Super Stealth Mute
Introducing the TrumCor Super Stealth Practice Mute - the ultimate solution for trumpet players who need to practice quietly without sacrificing their sound quality. This ultra-soft mute is specifically designed to offer even response in all registers while providing extra sound absorption and resistance compared to the Lyric Stealth model.

Perfect for use in apartments, hotels, or other settings where quiet practice is a must, the Super Stealth Mute is the ideal tool for players who need a more muted sound. It's also great for those who want to work on their endurance or tone quality by playing with more resistance.

Whether you're a professional trumpet player or just starting out, the TrumCor Super Stealth Practice Mute is a must-have accessory for your practice routine. Its unique design ensures that you'll get an even response in all registers, while the extra sound absorption and resistance can help you improve your endurance and tone quality over time.

So why settle for a subpar practice mute when you can experience the ultimate in sound quality and performance with the TrumCor Super Stealth Practice Mute? Order yours today and discover the difference that this top-of-the-line mute can make in your playing.
About TrumCor Mutes
TrumCor has been a leading mute-maker for brass players for over 20 years. Their mutes are used by renowned soloists and players from the world's greatest orchestras. TrumCor's fiber and metal mutes are carefully hand-crafted in Tennessee, Maryland, and Texas using specially selected materials to produce a muted tone that is in tune, vibrant, warm, and responsive, while preserving the unique sound quality of each instrument. Their durability and compatibility with other instruments make TrumCor mutes a valuable tool for brass players of all levels. With a wide variety of styles and sizes available, TrumCor can accommodate almost every model of brass instrument or school of playing.