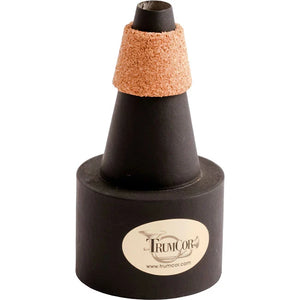 TrumCor Trumpet Lyric Stealth Practice Mute
TrumCor Mutes - Trumpet Lyric Stealth Mute
Introducing the TrumCor Lyric Stealth Practice Mute - the perfect tool for warming up and practicing quietly on your trumpet. Whether you're in an apartment, hotel room, or just looking for a way to practice without disturbing others, this mute is the solution you've been searching for.
What sets the TrumCor Lyric Stealth Mute apart from the competition is its unique ability to respond evenly in all registers without compression or intonation distortion. This means that you can practice without sacrificing the quality of your sound or the feel of your instrument.
Crafted with care and precision by TrumCor Mutes, this practice mute is designed to meet the needs of brass players at all levels. It's easy to use, fits securely in your instrument, and is lightweight and compact for convenient transport. Plus, its durable construction ensures that it will last for years to come.
So why wait? Order your TrumCor Lyric Stealth Mute today and start practicing without worry or interruption. With its even response and distortion-free sound, you'll be able to hone your skills and perfect your technique in any setting. 
About TrumCor Mutes
TrumCor has been a leading mute-maker for brass players for over 20 years. Their mutes are used by renowned soloists and players from the world's greatest orchestras. TrumCor's fiber and metal mutes are carefully hand-crafted in Tennessee, Maryland, and Texas using specially selected materials to produce a muted tone that is in tune, vibrant, warm, and responsive, while preserving the unique sound quality of each instrument. Their durability and compatibility with other instruments make TrumCor mutes a valuable tool for brass players of all levels. With a wide variety of styles and sizes available, TrumCor can accommodate almost every model of brass instrument or school of playing.