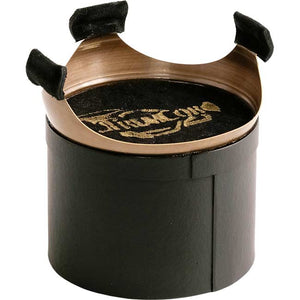 TrumCor Trumpet Bucket Mute
TrumCor Mutes - Trumpet Bucket Mute
Looking for a classic mute timbre with modern design? Look no further than the TrumCor Trumpet Bucket Mute. This mute is a perfect blend of the classic sound of a bucket mute with modern styling and engineering.
With the use of state-of-the-art machining and innovative hand-forming techniques, TrumCor has solved the shortfalls of previous bucket mute designs - ease of use and durability of materials. The result is a beautifully crafted mute made of patina brass and TrumCor's exclusive resonant fiber material, providing a silky, smooth sound that is sure to spark the creativity of trumpet artists worldwide.
But don't be fooled by its classic sound - this bucket mute is designed for modern trumpet players. Its easy-to-use design and durable materials make it a go-to for players of all levels. The TrumCor Trumpet Bucket Mute is perfect for big band, jazz, orchestral, and even solo playing.
As with all TrumCor products, this mute is designed to be free blowing and in tune throughout the complete range of the trumpet. The TrumCor Trumpet Bucket Mute is a must-have for any trumpet player looking for a classic sound with modern functionality. Add it to your mute collection today!
About TrumCor Mutes
TrumCor has been a leading mute-maker for brass players for over 20 years. Their mutes are used by renowned soloists and players from the world's greatest orchestras. TrumCor's fiber and metal mutes are carefully hand-crafted in Tennessee, Maryland, and Texas using specially selected materials to produce a muted tone that is in tune, vibrant, warm, and responsive, while preserving the unique sound quality of each instrument. Their durability and compatibility with other instruments make TrumCor mutes a valuable tool for brass players of all levels. With a wide variety of styles and sizes available, TrumCor can accommodate almost every model of brass instrument or school of playing.