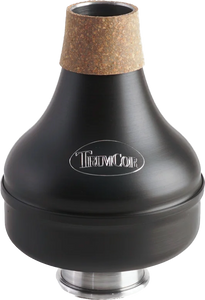 TrumCor Trumpet Aluminum Zinger Mute
TrumCor Mutes - Trumpet Zinger! Trumpet Mute
Get ready to experience the impossible with TrumCor's latest offering - The Zinger! This is not your typical harmon-style mute. They have reimagined what's possible in a mute, and the results are truly astonishing.
Every aspect of The Zinger! has been meticulously designed and tested over four years to ensure uncompromising playability. From pitch to articulation, slotting to comprehensive range, dynamic projection to a beautiful sound - The Zinger! delivers it all.
TrumCor has developed innovative design and manufacturing techniques that push the boundaries of performance potential. The result? A mute that offers complete freedom of expression and technique throughout the dynamic and tonal range of the trumpet, all while maintaining a consistent pitch center.
Don't settle for mediocrity. Elevate your performance with TrumCor's Zinger! Experience for yourself what is truly possible with this game-changing mute.
Order now and take the first step towards unlocking your full potential as a musician. The Zinger! is waiting for you.
About TrumCor Mutes
TrumCor has been a leading mute-maker for brass players for over 20 years. Their mutes are used by renowned soloists and players from the world's greatest orchestras. TrumCor's fiber and metal mutes are carefully hand-crafted in Tennessee, Maryland, and Texas using specially selected materials to produce a muted tone that is in tune, vibrant, warm, and responsive, while preserving the unique sound quality of each instrument. Their durability and compatibility with other instruments make TrumCor mutes a valuable tool for brass players of all levels. With a wide variety of styles and sizes available, TrumCor can accommodate almost every model of brass instrument or school of playing.