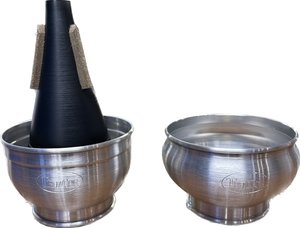 TrumCor Trumpet Aluminum Cup Mute w/Extra Bowl Cup
TrumCor Mutes - Trumpet Aluminum Cup Mute
Introducing the latest innovation in brass instrument mutes from TrumCor - the TrumCor Aluminum Cup Mute with two adjustable cups. TrumCor has designed a mute that is sure to delight even the most discerning musicians.
This exceptional mute comes with not one, but two cups, each designed to enhance the tonal range of your instrument. The first cup is a traditional design, perfect for everyday use. The second is a revolutionary "bowl" cup, which produces a rich, full-bodied sound that will take your playing to the next level.
But the benefits of the "bowl" cup don't stop there. It is also highly effective in freeing up the upper and lower registers of your instrument, making it a must-have accessory for any serious musician.
The TrumCor Aluminum cup mute is versatile enough to be used across all types and genres of music, whether you're playing classical pieces or jazz standards. Its lightweight aluminum construction ensures easy handling and durability, so you can keep playing for hours on end.
Don't settle for less than the best. Upgrade to the TrumCor Aluminum Cup Mute with two adjustable cups, and experience a new level of tonal versatility and freedom.
About TrumCor Mutes
TrumCor has been a leading mute-maker for brass players for over 20 years. Their mutes are used by renowned soloists and players from the world's greatest orchestras. TrumCor's fiber and metal mutes are carefully hand-crafted in Tennessee, Maryland, and Texas using specially selected materials to produce a muted tone that is in tune, vibrant, warm, and responsive, while preserving the unique sound quality of each instrument. Their durability and compatibility with other instruments make TrumCor mutes a valuable tool for brass players of all levels. With a wide variety of styles and sizes available, TrumCor can accommodate almost every model of brass instrument or school of playing.