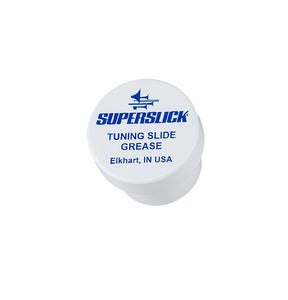 Superslick Tuning Slide Grease .25oz Jar
This specially formulated light-weight, buttery smooth grease will keep clean tuning slides moving freely, smoothly, longer. Offers an airtight seal around tuning slide valves while providing excellent lubrication. 1/4oz polycon jar w/cap.
About Superslick Oils & Lubricants
SuperSlick manufactures quality band and orchestral accessories and maintenance products. Time-tested effective, non-hazardous, safe for classroom use products to help clean and maintain your musical instrument. Made in the USA!