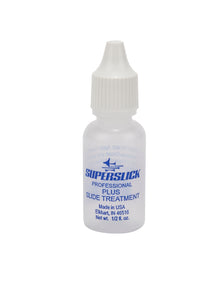 Superslick Silicone Plus Slide Treatment for Trombone – 0.5 oz bottle
Superslick Professional Plus - Silicone Slide Treatment for Trombone, is an exclusive slide treatment for use with the Superslick Slide Cream (SC1). A drop on each stocking enhances the action and endurance of slide cream. 0.5 oz (15 mL) size bottle with controlled dropper tip and cap.
About Superslick Oils & Lubricants
SuperSlick manufactures quality band and orchestral accessories and maintenance products. Time-tested effective, non-hazardous, safe for classroom use products to help clean and maintain your musical instrument. Made in the USA!