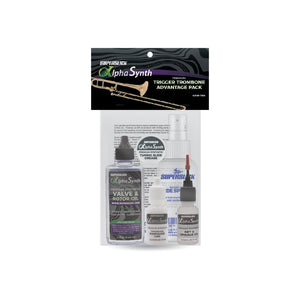 Superslick AlphaSynth Trigger Trombone Advantage Pack
Superslick's AlphaSynth Trigger Trombone Advantage Pack is loaded with high quality lubricants to maintain the longevity and function of any trigger trombone. The pack includes AlphaSynth Rotor Oil that will clean as it lubricates any rotor, Key & Linkage Oil to help lubricate any spindles or linkages on the instrument, Handslide Lube and fine mist spray bottle for long-lasting slide action, and Tuning Slide Grease. All AlphaSynth products are completely safe for classroom use. Made in Elkhart, Indiana, USA.
Professional musician, educator and repair shop approved, AlphaSynth is the new standard for synthetic lubricants. Give it a try and you'll see why it's the leader of the pack.