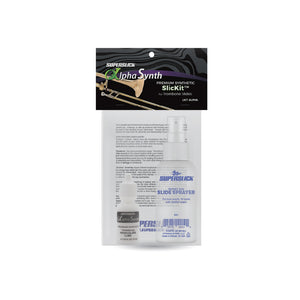 Superslick AlphaSynth SlicKit for Trombone Slides
Adding to the extremely popular Superslick Slick-It Kits, the AlphaSynth Slick-It Kit contains the high quality, unique formula Handslide Lube as well as the popular Superslick Trombone Fine Mist spray bottle. All AlphaSynth products are completely safe for classroom use. Made in Elkhart, Indiana, USA.
Professional musician, educator and repair shop approved, AlphaSynth is the new standard for synthetic lubricants. Give it a try and you'll see that it's the leader of the pack.