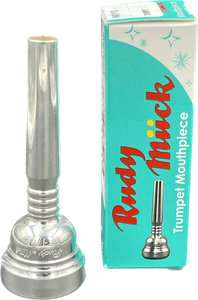 Rudy Muck 17C Trumpet Mouthpiece
Rudy Muck 17C Trumpet Mouthpiece: A Legacy of Precision, Comfort, and Unmatched Strength
Discover the pinnacle of craftsmanship and performance with the Rudy Muck 17C Trumpet Mouthpiece. A piece that embodies a legacy of meticulous design, it offers players an unparalleled experience of comfort, durability, and the legendary strength that has defined Rudy Muck mouthpieces for generations.
Key Features:
Model: 17C
Cup Depth: 0.685"
Approximate Cup Diameter: 17.15mm
Famed "Cushion Rim": Experience the iconic comfort and support that has made the Rudy Muck brand a favorite amongst brass players globally.
Medium Depth Cup for Versatile Performance:
The 17C model is crafted with a medium depth cup, ensuring a balanced and versatile play, whether you are delving into intricate symphonies or exploring the vibrant world of jazz. Each note resonates with the precision and clarity borne from a legacy of masterful craftsmanship.
The Renowned "Cushion Rim":
With the Rudy Muck 17C, comfort meets performance. The famed "Cushion Rim" design is not just an innovation but a testament to a legacy where every note is supported by unmatched comfort. Dive into extended sessions, and let the "Cushion Rim" be your steadfast companion, ensuring each performance is as comfortable as it is mesmerizing.
A Journey through the Rudy Muck Legacy:
Rooted in the storied traditions that trace back to 1875, Rudy Muck mouthpieces are a culmination of generations of brass craftsmanship. Steeped in an environment where brass wasn't just a material but a canvas of musical expression, Rudy Muck, from a tender age, was destined for greatness.
Initiated into the art by his father, J.R. Mück, and nurtured by the world-renowned B.F. Keith's Band, Rudy Muck wasn't just a name but a legend in the making. Each mouthpiece today resonates with the touches of mastery, innovations, and the meticulous craftsmanship that has defined the House of Mück for decades.
The 17C – A Testament to Excellence:
Every Rudy Muck 17C Trumpet Mouthpiece is a piece of history, a melody that transcends time, and a performance that echoes the legacy of brass craftsmanship at its finest. Custom-built, each piece is an artwork, a performance companion ensuring that every note isn't just played but is experienced, felt, and remembered.
Your Performance, Elevated:
With the Rudy Muck 17C, step into a world where every note is a symphony, every performance a dance of precision and comfort, and every melody an echo of a legacy of unparalleled brass craftsmanship. Your journey to musical excellence is not just assured but is destined, with a companion that has graced the world's finest stages and echoed in the halls of musical legends.
Embrace the Rudy Muck 17C Trumpet Mouthpiece, and let each note be a step into a world where history, craftsmanship, and performance excellence unite. Your masterpiece awaits.