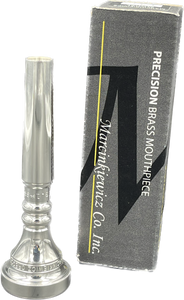 Marcinkiewicz E9.1 Trumpet Mouthpiece - Bobby Shew 1.5
Marcinkiewicz E9.1 Bobby Shew 1.5 Trumpet Mouthpiece: A Harmony of Elegance, Comfort, and Precision
Step into a world of unmatched elegance and performance with the Marcinkiewicz E9.1 Bobby Shew 1.5 Trumpet Mouthpiece. This signature piece embodies a legacy of meticulous craftsmanship, offering trumpet enthusiasts a harmonious blend of comfort, precision, and a resonance that fills both the room and the soul.
Exquisite Specifications:
Model: E9.1 (Bobby Shew 1.5 Signature)
Outer Diameter: 26.85 mm
Inner Diameter: 16.81 mm
Cup Depth: 10.03 mm
Bore: 3.56 mm
Overall Length: 87.63 mm
Rim Contour: Medium Round
Material: Silver
Comparable Model: Giardinelli 10S
Expertly Crafted for Optimal Performance:
The Marcinkiewicz E9.1 is defined by its tailored design, reflecting the elegance and functional superiority of the Bobby Shew 1.5 signature model. Each dimension is carefully curated, ensuring that the depth of the cup and the medium round rim contour collaborate to offer a playing experience of comfort and expressive freedom.
Echoing a Tradition of Brass Mastery:
The Marcinkiewicz brand is synonymous with a tradition of excellence, where each mouthpiece echoes the rich history of 'old world' craftsmanship seamlessly merged with state-of-the-art technology. Every note played with the E9.1 is a testament to this legacy, resonating with the precision and passion that defines Marcinkiewicz Co. Inc.
The E9.1 – Where Innovation and Tradition Meet:
Discover a trumpet mouthpiece that is more than a tool but a companion in your musical journey. The E9.1 Bobby Shew 1.5 combines the insights of legendary designers and the precision of modern technology. Every curve, contour, and tone is a reflection of a legacy where passion and precision coexist.
Elevate Every Performance:
With the E9.1, every note is an exploration, and every performance is a narrative of musical mastery. This mouthpiece is not just crafted for the trumpeter but for the artist, the storyteller, and the passionate soul that seeks to express the inexpressible through the majestic tones of the trumpet.
Indulge in a playing experience where comfort, elegance, and precision are not just promised but are intrinsic. The Marcinkiewicz E9.1 Bobby Shew 1.5 Trumpet Mouthpiece is not just an addition to your musical repertoire but a gateway to a world where every note, every melody, is a step closer to musical perfection. Your symphony of excellence is but a breath away.