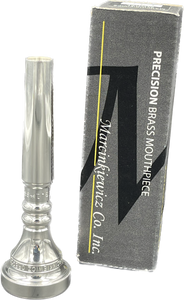 Marcinkiewicz E10.3 Trumpet Mouthpiece - Bobby Shew 1.25
Marcinkiewicz E10.3 Trumpet Mouthpiece: Uniting Craftsmanship and Precision for Peerless Performance
Embrace the epitome of expertly crafted design and exceptional performance with the Marcinkiewicz E10.3 Trumpet Mouthpiece, a Bobby Shew signature model. Precision, comfort, and impeccable sound quality converge in this masterpiece, offering trumpet players a playing experience that transcends the ordinary.
Detailed Specifications:
Model: E10.3 (Bobby Shew Signature)
Outer Diameter: 26.85 mm
Inner Diameter: 16.81 mm
Cup Depth: 9.65 mm
Bore: 3.56 mm
Overall Length: 87.63 mm
Rim Contour: Medium Round
Material: Silver
Comparable Model: Giardinelli 10S
Unmatched Design Precision:
Every curve, contour, and dimension of the E10.3 is meticulously crafted, reflecting the signature elegance and functionality synonymous with Marcinkiewicz. The medium round rim contour ensures optimal comfort, while the specific dimensions are tailored to facilitate impeccable tone production and enhanced playability.
A Legacy of Excellence – The Marcinkiewicz Touch:
Marcinkiewicz Co. Inc. stands as a beacon of innovation and quality in the world of brass technology. Rooted in a legacy that combines 'old world' craftsmanship with state-of-the-art technology, each mouthpiece is a testament to precision, quality, and artistic mastery. Nestled in the heart of Canby, Oregon, the Marcinkiewicz facility is where innovation meets tradition, giving birth to mouthpieces that are revered globally.
The E10.3 – A Confluence of Art and Technology:
With the Bobby Shew signature model, experience a trumpet mouthpiece where every note is a melody, and every performance is an exploration of the soul of music. Inspired by the legacy of master designer Burt Herrick and brought to life with modern single-point cutting technology, the E10.3 is not just a mouthpiece but a gateway to unearthing the depths of musical expression.
Your Companion in Musical Mastery:
Whether echoing the serene notes of a classic symphony or the vibrant tones of contemporary melodies, the Marcinkiewicz E10.3 adapts, empowers, and transcends. Each piece is not just crafted but is born from a confluence of passion, precision, and the unyielding quest for musical excellence.
Step into a world where your notes resonate with the legacy of craftsmanship, where every performance is a journey, and where music and soul unite in a timeless dance. The Marcinkiewicz E10.3 Trumpet Mouthpiece awaits – where music, mastery, and tradition become one.