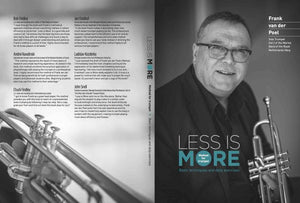 Less is More Trumpet Method Book by Frank van der Poel
"These three simple words explain my vision on playing the trumpet. This particular methodology is suitable for advanced trumpet players, teachers and conservatory students. This exercise book explains how to play the trumpet instead of fighting it. In this method I have tried to combine two worlds:  the world of physiotherapy and the practical one of playing the trumpet. In the first two chapters I focus primarily on the technical and theoretical side of this objective. The reasons for developing this methodology are outlined in chapter 3. This exercise book is heavily based on my own experiences and decades of practical experience. Every now and then I'll complement this with stories and anecdotes from my professional career. Exercises start from chapter 4 onwards preceded by do's and don'ts and useful tips.
Let's go back to the title of this book for a minute. How do you go about making playing the trumpet easier and what do you mean by "Less is More"? Firstly by using less air and doing proportionally less with the embouchure, playing the trumpet becomes less difficult and more effective. I would like to emphasize that this manual isn't a course for long distance learning and that practical tuition by a professional should have your preference. This is a method for advanced trumpet players but teachers and students alike can also benefit from this book. The basic techniques that are discussed in this book can also be important for beginners to study."
- Frank van der Poel