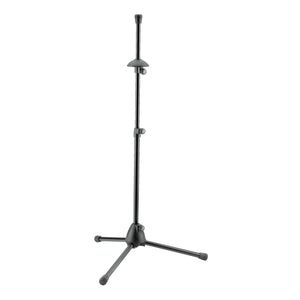 Konig & Meyer Trombone Stand - 149/9
K&M Trombone Stand - Your Instrument's Best Ally
K&M Trombone Stand, Black
Elegance meets engineering with the K&M Trombone Stand. Designed with dedication and precision, this stand combines the timeless legacy of König & Meyer with the functionality needed by today's discerning musicians.
Key Features:
Sturdy Two-Section Tubing: Robust design ensuring longevity and stability.
Wide, Flat Tripod Base: Offers maximum balance, reducing any chances of tipping.
Adjustable Plastic Peg: Ensures a snug fit for various trombone models.
Smooth Clamp Assembly: Height adjustments made easy, allowing for quick modifications on the go.
Compact Folding Design: Effortlessly collapses, making it the perfect travel companion for any trombonist.
Specifications:
Height Range: 21.85" - 34.055"
Material: Precision steel tubes with non-marring rubber covering for utmost instrument protection.
Additional Features: 2-Piece folding design that's also compatible with marching baritones. Brace construction ensures added stability.
A Legacy of Trust:
For over 65 years, musicians ranging from budding beginners to seasoned professionals have placed their trust in König & Meyer. A commitment to quality, paired with in-house manufacturing of both metal and plastic parts, has solidified K&M's reputation in the music world. The meticulous attention to detail is evident, from the precision steel tubes used to the consistent dimensions and tolerances maintained.
Why Choose the K&M Trombone Stand?
Portable: Its fold-up compact legs and lightweight design make it an ideal choice for musicians on the move.
Adaptable: In addition to trombones, this stand is also suitable for marching baritones.
Safe: The non-marring height adjustment system ensures your instrument remains scratch-free.
Stable: Designed to stay grounded, ensuring your instrument remains safe and secure.
With the K&M Trombone Stand, you're not just getting a product; you're becoming a part of a legacy. Reliability, durability, and stability – K&M ensures your instrument stands tall.