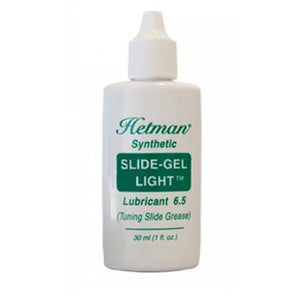 Hetman Slide-Gel Light Lubricant 6.5 - 1 oz Bottle
Hetman® Synthetic Piston Lubricants provide superior wear and corrosion protection for all types of piston valves. Whether your instrument has Monel, stainless steel, or nickel-plated pistons, these long-lasting, non-gumming lubricants will provide for an action that is smooth, quick and consistent.
Hetman #6.5 Slide-Gel Light – This special tuning slide lubricant provides long-lasting seal and firm slide motion. A high viscosity synthetic lubricant for close fitting tuning slides. Provides long lasting seal and firm slide "feel/pull". Will not bunch up in slide tube ends. Adhesive formula protects against corrosion and wear. May be used together with A14-MW50 (7) Slide Gel. 30-ml bottle.
Hetman® Musical Instrument Lubricants
The extensive range of Hetman® Musical Instrument Lubricants constitutes an application-specific system of advanced instrument care for the discriminating musician. This system of lubricants was developed to go beyond the limitations of conventional oils and provide a new level of instrument performance and longevity.
• Leading Edge Technology – each lubricant embodies the most advanced technology, providing superior, longer-lasting performance, and protection against wear and corrosion.
• Application-Specific – each lubricant's viscosity and formulation is designed for its specific application.
• Compatibility – each lubricant is compatible with conventional petroleum-based oils, avoiding potential gumming problems associated with some synthetics.
• Easy Application – each lubricant is packaged with a dispensing system that allows convenient application to the most difficult-to-reach lubrication points.