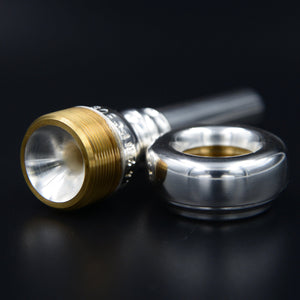 Cornet Mouthpiece Underpart Only by Bob Reeves Brass
Handcrafted, screw-rim cornet mouthpiece underpart only by Bob Reeves Brass. Choose rim diameter and cup shape.
This is for the underpart only. You need to have a Reeves rim already to properly use the mouthpiece. If you need a complete mouthpiece, please order it here.
Rim Sizes (smallest diameter to largest):
40 - 40/64", .625", 15.875mm, 10-1/2C Mt. Vernon
41 - 41/64", .641", 16.28mm, 7C Mt. Vernon
42 - 42/64", .656, 16.66mm, 3C Elkhart
43 - 43/64", .672", 17.09mm, 3C, Shew Jazz
43N - 

43/64", .672", 17.09mm, 2-1/2C

43W - 

43/64", .672", 17.09mm, 3CW

43.5 - 43.5/64", .680", 17.27mm, 1-1/2C, 5C
Cup Shapes (shallowest to deepest):
ES - Extra shallow bowl
SV - Shallow "V" 
S - Shallow bowl
M - Medium bowl
D - Medium-deep "V"
C - Medium-deep bowl
B - Deep bowl