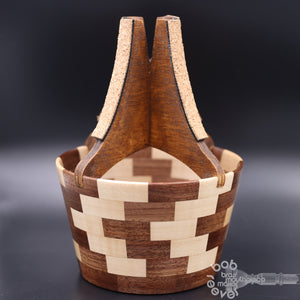 Clary Woodmutes Bucket Mute
The Bucket Mute - A resonant beauty that plays in-tune, offers relatively no resistance, and offers multiple timbre possibilities.
The bucket mute is made from segments of domestic walnut and maple. The bottom bucket section contains 68 individual segments.  The top frame is made of high-quality Baltic Birch plywood for strength, and stained to compliment the walnut in the bucket section.
The bucket is a lot of fun to play.  Players can customize the sound of the bucket by placing different materials inside the mute.  The bare wood produces a brighter, "cuppy" sound.  However, players might use a cocktail napkin or handkerchief to make the sound darker.  Adventurous users of the mute might use aluminum foil or styrofoam to produce a buzzy sound.  The possibilities are limited only by your creativity.
Fits Bb and C trumpets.  Weight is about 5 oz (150 g).
Clary Woodmutes are handmade from domestic and exotic hardwood.  They are finished with shellac and buffed and waxed to make them pretty and shiny.  The inside is finished with a protective-coating of mineral oil.  All mutes come with an attractive handmade black velvet bag!