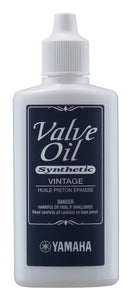 YAMAHA Valve Oil - Vintage Synthetic - 2oz (60ml) Bottle
Revitalize Your Classic Instruments with YAMAHA Vintage Synthetic Valve Oil - 2oz (60ml) Bottle
Embrace the harmony of tradition and innovation with YAMAHA Vintage Synthetic Valve Oil. This thicker, superior quality oil is the silent guardian for your treasured older instruments, ensuring that every valve movement is smooth and that the rich history embedded in every note is elegantly unveiled.
Specially Crafted for Vintage Instruments:
YAMAHA understands the grace and nobility of vintage instruments. This 2oz (60ml) bottle of vintage synthetic oil is the perfect companion for older instruments with looser valves, ensuring a rejuvenated performance that is as smooth as it is lasting.
Ideal for Larger Valve Pistons:
Engineered to perfection, this valve oil is a blessing for instruments with larger valve pistons like tubas and euphoniums. Witness a transformation in every performance where smooth, long-lasting action becomes the standard.
Long-Lasting Smooth Action:
Breathe life into every note and melody with a valve oil that promises not just enhanced performance but longevity. Each drop ensures that the elegant dance between valves and notes is smooth, uninterrupted, and utterly mesmerizing.
Features:
Vintage Instrument Ally: Thicker consistency specially formulated for older instruments with looser valves.
Optimized for Larger Pistons: Ideal companion for tubas, euphoniums, and other instruments with larger valve pistons.
Enduring Performance: Offers long-lasting valve action, reducing the need for frequent reapplications.
Quality Assurance: A YAMAHA promise of impeccable quality, ensuring the revitalization and enhanced performance of your vintage instrument.
A Symphony of Tradition and Innovation:
With YAMAHA Vintage Synthetic Valve Oil, witness a seamless blend of the old and new. Every 2oz (60ml) bottle is a promise of revitalized performance, where the rich tones of yesteryears are echoed with clarity, precision, and grace.
Purchase Today:
Don't let the age of your instrument dictate its performance. Equip it with YAMAHA Vintage Synthetic Valve Oil and let every note be a testament to a timeless musical journey, unfettered by time and age. Add to cart and step into a world where every melody is a bridge between the past and present.