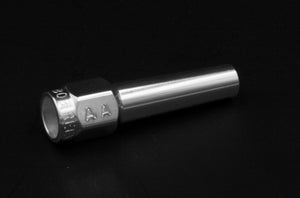 A-Adapter for Piccolo Trumpet
Does your piccolo trumpet play better in Bb than it does in A? Does your piccolo trumpet only come with one leadpipe that requires you to pull way out in order to play in the key of A?
If you use a cornet mouthpiece in your piccolo trumpet, we have a solution for you.
The Bob Reeves Brass A-Adapter allows you to use your Bb tuning pipe in the key of A with the following benefits:
improved response
easier upper register
more colorful, resonant sound

better intonation across the harmonic series
Designed based by Bob Reeves in the 1970s based on the acoustic research of William Cardwell, the Reeves A-Adapter has been used by professionals and students around the world to improve their piccolo trumpet performance.